All items are consciously and carefully handmade to order. Please allow 7-14 working days before your order is shipped. Thank you!
The Dream Garden
The inspiration behind this collection is an extension of the previous collection "Childhood Memories". We were inspired by the things we saw around us when we were a child playing in the back garden. Like the lotus pond or the plants and flowers, our mother planted with care. Always cool, always moist and always emitting the herbaceous smell of flowers and plants, the earthy thickness of the soil, and hints of the freshness of water.
Explore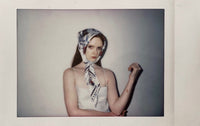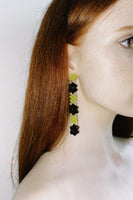 Green Chalcedony and Glass Crystal dangling earrings
Green chalcedony and black glass beads are used to show the verdant and decay of plants, life, and growth in nature
See More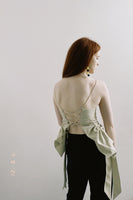 Leah Lace-up Backless Top
Leah Lace-up Backless Top made with organic linen and cotton with adjustable ruching on sides by tying up the bows for preferable length. Lace-up with adjustable drawstring straps from shoulder.
See More